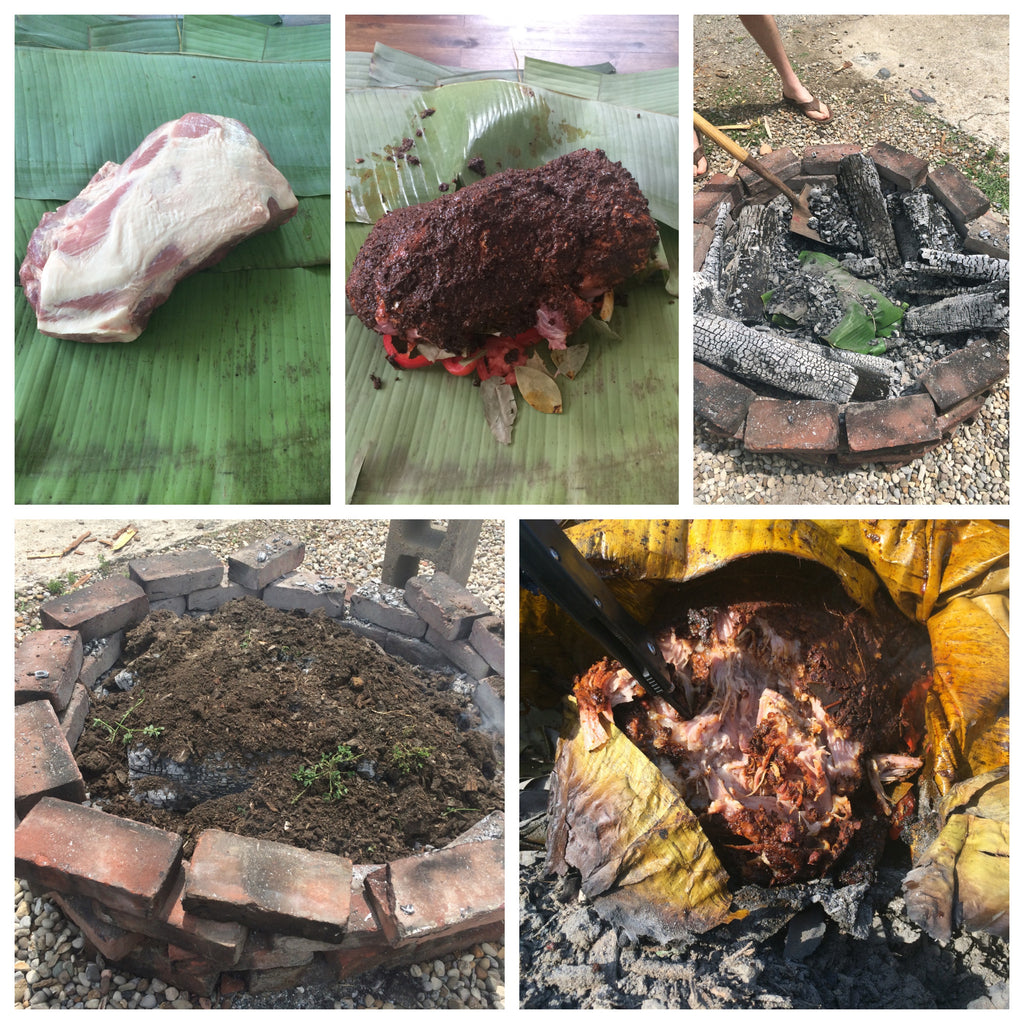 Early next year, Good Folks will enter the
US Barista Competition
. The specialty drink—a unique creation of each competitor, which combines espresso with other ingredients—determines a big part of the score for that event. One thing we've decided to do to teach ourselves more about combining coffee with new flavors is to use coffee in cooking projects.The goal is that by using coffee as a supporting flavor in the savory kitchen, we can learn how to make a specialty drink that balances flavors better than if we just practiced a drink-focused approach. This is like the Karate Kid, in which Daniel indirectly becomes good at karate by doing unrelated chores.
Pork, Cooked in the Earth
The first recipe we created was both ambitious and simple at once. It's a pork shoulder, rubbed with coffee and spices, wrapped in banana leaves, then covered in the embers of a fire and buried in the earth, where the meat cooks slowly in the trapped heat. Pit roasting is one of the oldest ways of cooking; ancient cultures from all over the world have used this method to have a hot meal waiting at the end of a workday, like a 5,000-year old crock-pot.  
We chose pit-cooked pork as our first recipe for a few reasons:
As a primal way of cooking, it felt like a metaphorically appropriate choice for our first coffee-cooking project.

The intimate way that the pork is cooked with fire seemed to be a good fit for a coffee-seasoned piece of meat because coffee has its own special relationship with heat and fire. 

All poetics aside, pork shoulder is just pretty hard to mess up, so we thought this was a safe bet. And we all wanted to build a big fire in the back yard.
For us, this recipe/method produced a tasty, juicy piece of meat, and the process of cooking it was really fun. We roasted a 10lb cut for 5 hours and the texture was just right for us. Flavor-wise, the coffee adds a nice bass-note to an otherwise bright marinade. Citrus and achiote are very acidic and are the most prominent flavors. The coffee balances those bright notes and also helps bring out the earthiness of the allspice and cumin. The garlic and coffee flavors play together surprisingly well.  
What We Learned About Coffee
The lesson from this experiment is that coffee can meld well with other powerful flavors. I expected the coffee flavor to be much more prominent in the final product, especially given that we used a full 1/2 cup. Instead, the flavor was noticeable but provided balance instead of dominating. In future recipes we can explore the idea of using coffee to tame exotic flavors.
Is anybody else up to try this and provide feedback? Here's our recipe:
Recipe: Coffee-Rubbed Pork Shoulder, Cooked in the Earth
Ingredients
1/2 cup finely ground

espresso

or

dark roast coffee

(50 g)

12 cloves garlic

2 tablespoons vegetable oil

2 tablespoons

achiote seeds

(20 g) (available at Latin markets)

1 stick cinnamon (5g)

2 tablespoons whole black peppercorns (10 g)

1 tablespoon whole cumin seed (5 g)

1 tablespoon whole allspice berries (5g)

1/3 cup lime juice

1/3 cup orange juice

1/4 cup vinegar

1/4 cup brown sugar

5-10 pound bone-in pork shoulder

Salt (1.5% weight of pork)

6 to 8

banana leaves

(available at Latin and Asian Markets)

12 bay leaves

Butcher's twine
Method
The night before cooking, rub pork with salt and wrap tightly to rest in the fridge.

Two hours before you want to cook the meat, dig a 2x2x2 hole in the ground.  Make sure there are no tree roots or anything else that can catch on fire.  Line the bottom of the hole with bricks or large stones.  Build a big old fire in the hole and let it burn down into coals while you prepare the marinade.

In a dry skillet, over medium/high heat, toast whole spices and garlic (excluding the coffee) for 1 minute, until fragrant and starting to char, then add oil and cook for an additional minute before removing from heat. Add coffee, citrus juice, vinegar and sugar then transfer to blender and blend until smooth.

Lay 3-4 overlapping banana leaves on a table and place pork in the middle, then rub pork with the spice mixture.  Wrap banana leaves around the pork and tie package with butchers twine.  

Place banana-leaf package in the middle of the burned-down embers of the fire, then heap embers on top with a shovel.  Bury with coals and pork with the dirt you dug out of the hole.

Wait about 5 hours, depending on the size of the pork and heat of the fire.  This is not an exact science. If you use a long-probed meat thermometer, look for the pork to be above 170 F for an hour before pulling.  The pork is done when it can easily shred with a fork.

Pull out the pork, transfer onto a clean plate and then serve in warm tortillas with the condiments of your choice.