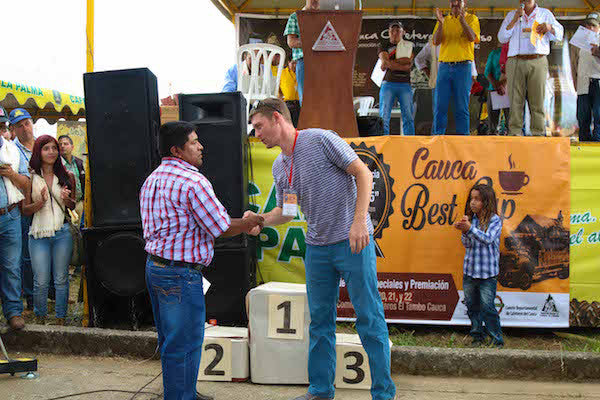 It is no secret that Colombian coffee producers are providing the specialty coffee industry with some of the best and most exciting coffees in the world right now. In fact, according to Sprudge's coverage of the 2016 U.S. Barista Championship, 11 of the final 18 competitors competed with a Colombian coffee. Colombian coffee isn't some nondescript medium-dark coffee that you buy are some fast food chain or gas station; Colombian coffee is exciting, delicious, and extremely diverse in taste.
In 2014 we were honored to be invited to the first ever Cauca Best Cup competition, hosted by our importer, Cafe Imports, and Colombian exporter, Banexport. If you haven't read about Matt's trip in 2014, you can read about it here and here. It was a direct result of Matt's trip that led to us buying two of our favorite coffees last year from brothers Enodth and Clodomiro Paz Mosquera.
Again in 2015, we were invited to serve as judges for the Cauca Best Cup Competition, alongside coffee roasters and buyers from around the world. In summation, the trip was full of drinking delicious coffee, cupping and scoring some amazing coffees, socializing with other coffee professionals, and scores of fun. For a full rundown, I encourage you to read Cafe Imports' blog on the trip here.
Nearly 500 unique lots were submitted to Cafe Imports and Banexport for the Cauca Best Cup 2015 competition. During the weeks before our group arrived, Cafe Imports and Banexport roasted and cupped through each and every sample, narrowing the 500 lots down to the best 30 coffees. Our group arrived to Popayan, Colombia just in time to cup through the top 30 coffees (10 coffees per day for 3 days), scoring each coffee and narrowing down the field to the top 12. Finally, on the morning of the coffee auction, we again cupped the top 12 coffees, reassessing and scoring each coffee.
The first and second days of the trip both saw respectable average scores in the 87 and 88 range. Several delicious coffees graced the table, with cupping notes like: melon, tropical layers, raisin, brown sugar, and ripe papaya. Beautiful. Delicious. Exciting. Mouth-watering. Great coffees to be sure...but quickly overshadowed by the cupping table on day three. 
We tabulated average scores for the coffees on the third day, and celebrated when cup number five registered several scores in the 89-91 range. However, it was cup number twelve, the last cup of the day, that really got us going. As we went around the circle, giving each of our scores, we started with one owner of a well-known roasting company awarding the cup with a score of 92.666 (the 666 being a running inside joke all week). He loved it. So did everyone else. 89. 90. 93. 88. 87 (followed by booing from the rest). 90.5 (my score). 90. 90. 91...The list went on. This cup was delicious. We all loved it, and it was the highest average score of the top 30 coffees.
Even better were the descriptors that we used for this coffee. Most of the cups on the table were assigned 4-6 descriptors before we moved on to the next coffee. Not so with this coffee. Cup twelve of the third day. Coffee sample number 1338. The words kept flowing:
Vanilla. Cacao. Lemongrass. Grapefruit. Good aftertaste. Peach. Floral. Melon. Tomato. Watermelon. Lime. Honey. Complex. Fruited. Caramel. Panela. Sweet.
We had to have it. It was delicious - an eye-opening example of what Colombian coffees can be. At the auction, I battled head-to-head with roasters from Germany, England, and Colombia, and in the end prevailed. This coffee, grown by producer Carlos Gonzalez in the Inza municipality of Cauca, Colombia, now sits in the Good Folks Coffee roastery in Louisville, KY, and is ready to roast and ship to your home.
This week, subscribers of our single origin subscription box will be receiving this delicious coffee as part of their shipment. You can also order this coffee here, apart from any type of subscription. Happy Brewing!